Dodging...
Meteor Crater, AZ
.
At the museum,
Meteor Crater AZ
. In keeping with our theme.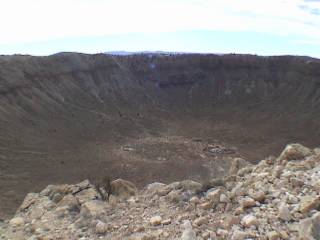 crater
Remains of an apocalyptic event. The first thing I thought when I laid eyes on the crater was "it doesn't look THAT big." What's wrong with me?
the all blonde Bush family in their cargo van- i felt a little angry with them. that's not good...
there's the remains of a crashed plane at the bottom of the crater. creepy
nobody died, though. not so creepy. again, what is wrong with me ?
Must say that the avuncular Wilfred-Brimley-Clone tour guide was, perhaps,
too
avuncular.
AZ-NM
Need some wood?
Petrogylph, Puerco Pueblo,
Petrified Forest NP
The Puerco Pueblo ruins. Made me realize what we would miss if we DID die in a nuclear armageddon: a big crater, and a bunch of ruins.
foot