Wednesday, October 27th - Saginaw, TX
Just when I think we're overeacting, our muckracking friend Matt Drudge delivers this little gem this morning:
XXXXX DRUDGE REPORT XXXXX WED OCT 27, 2004 12:42:01 ET XXXXX

ABCNEWS HOLDS TERROR WARNING TAPE

**Exclusive**

In the last week before the election, ABCNEWS is holding a videotaped message from a purported al Qaeda terrorist warning of a new attack on America, the DRUDGE REPORT has learned.

The terrorist claims on tape the next attack will dwarf 9/11. "The streets will run with blood," and "America will mourn in silence" because they will be unable to count the number of the dead. Further claims: America has brought this on itself for electing George Bush who has made war on Islam by destroying the Taliban and making war on Al Qaeda.
Read it
here.
Is this the OCTOBER SURPRISE? What if the October Surprise is that there is no October Surprise?
We''ll be going to the
Log Cabin Village
and
Joe T. Garcia's
today. Ahh, Joe T.'s- a great place for a last meal.
Update: Toured the Fort Worth Stockyards instead of going to the Log Cabin Village.
BIlly Bob's, Stockyards, Fort Worth, TX
Did go to Joe T's though.
Joe T's
When we came out the restaurant, holy crap-for-crap! An eclipse!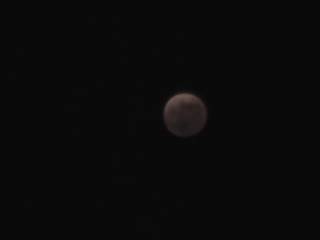 Didn't I say I would freak out if there was an eclipse? If the Red Sox win the World Series, surely the
Horsemen
are next.