Of course, it's just an unfortunate angle... but with this guy, you just can't help rolling your eyes.
Again.
Not because it's a dumb picture, or even a cheap shot. Or most probably a fake.
It's because with this guy, it's part of the act. It's what people bought about the guy. What they
like
about him.
President Gump.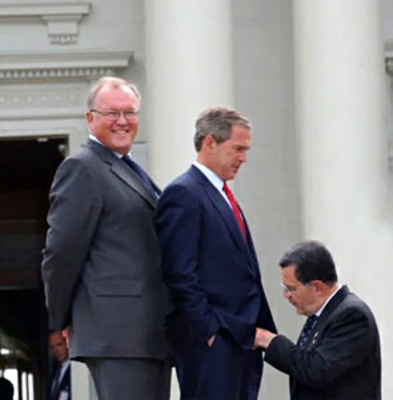 bushjob

(found this on tony's pierce's
busblog
)
But then it seems to radiate out of him, and it catches. He shows up for some event and the advance people
don't even bother to check the spelling
.
President George W. Bush and Office of Management and Budget Director Joshua Bolton (C) talk
to conferees, above a misspelled sign, at the White House Conference on the
Economy in Washington, December 16, 2004. The White House went all out to
showcase the advantages of U.S. President George W. Bush's ambitious financial
agenda this week, but in the end the 'challenges' proved too much. The word
'challenges' -- a main theme of a two-day White House economic conference that
ended on Thursday -- was misspelled on a large television monitor that stood in
front of Bush during a panel discussion.REUTERS/Reuters TV